Below is an article from an Official Information Publication "The Rescuegram" of the 129th Rescue Wing, California Air National Guard.
New Helicopter Blade Software Improves Safety - by 129th Aircraft Maintenance Squadron
The 129th Rescue Wing's HH- 60G flightline hosted a team of engineers April 5-10 from the Air National Guard and Air Force Reserve Test Center's Maintenance Test and Logistics Division, headquartered at Davis-Monthan Air Force Base, Ariz.
The goal of the visit was to introduce new track and balance software designed to reduce rotor system track and balance labor hours by up to 90 percent (including flight crew requirements).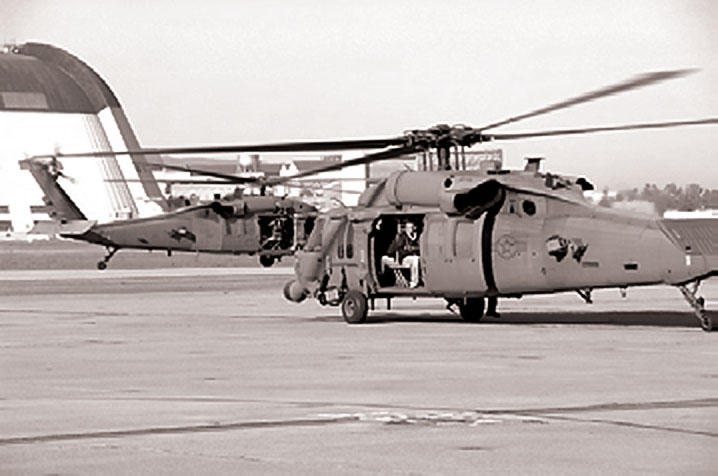 "Initially, we had quite a few naysayers who proclaimed, 'There is no way this new software will provide rotor track and balance solutions that will lower vibration levels down to the .00 range with just one or two flights," said Lt. Col. James Henderson, commander of the 129th Aircraft Maintenance Squadron.
After one day of classroom training with HH-60G mechanics and select propulsion members familiar with the MC-130P and HH-60G systems, maintenance personnel requested an HH- 60G functional check flight crew from operations and got down to business.
"Sure enough as advertised, the software, called Magic by its users, provided a balance solution consisting of a single trim tab adjustment and the addition of balance weight on one of the main blades," Colonel Henderson said. "Our flight crew took to the air and was amazed by the results. In two flights, vibration levels were down to 0.003. The standard with the older balance technology was 0.200."
This technology will be utilized during the next AEF cycle and has a variety of applications to include spectrum analysis, which determines material failures long before a catastrophic event could occur during flight.
---
Actual Balance Demonstration at Patrick AFB, FL
Below are original print-outs from C-H 8500C Balancer* from a United States Air Force helicopter (Sikorsky HH-60 Pavehawk), after a Phase Inspection:
*The C-H 8500C Balancer is the approved balancing equipment utilized by the United States Air Force.
After the 8500C had measured, collected and then calculated a balancing solution, as illustrated on each print-out below, IVT then utilizes the same collected measurements to recalculate an improved solution from IVT's patent technology. Only IVT's calculated solutions were used during this test, as handwritten on each print-out by the mechanic labeling the new solution as "Norm's Adj", as follows:
1st flight print-out: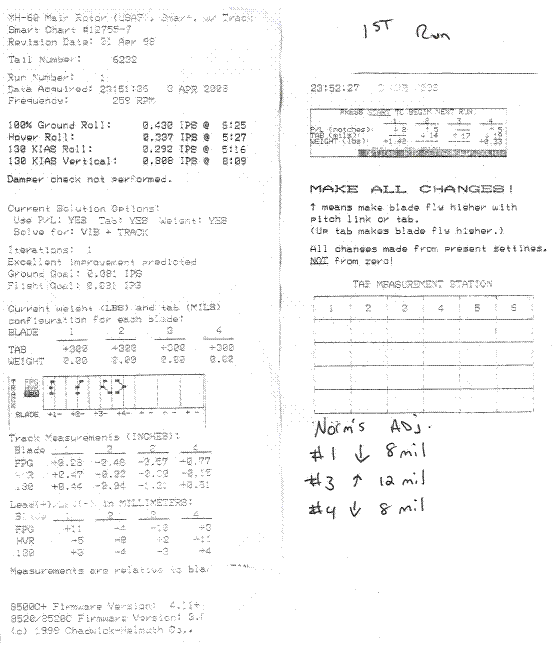 Solutions:
8500C solution: 3 Pitch Link; 3 Tab; and 2 Hub Weight adjustments.
IVT solution: 3 Tab adjustments.
2nd flight print-out: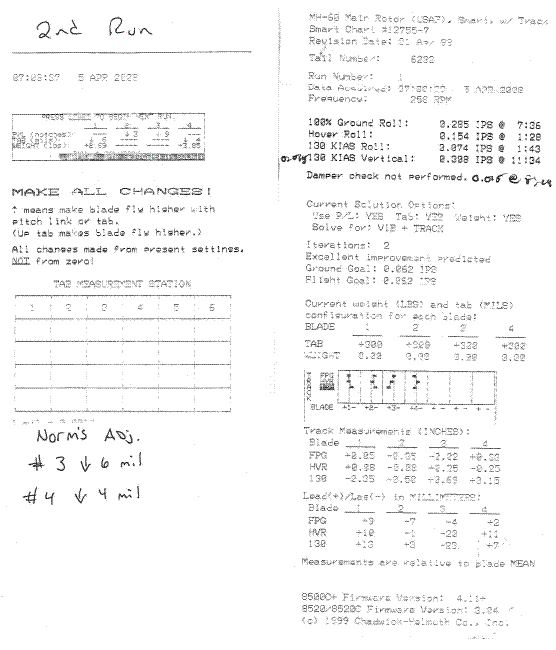 Solutions:
8500C solution: 2 Pitch Link; 2 Tab; and 2 Hub Weight adjustments.
IVT solution: 2 Tab adjustments.
3rd flight print-out: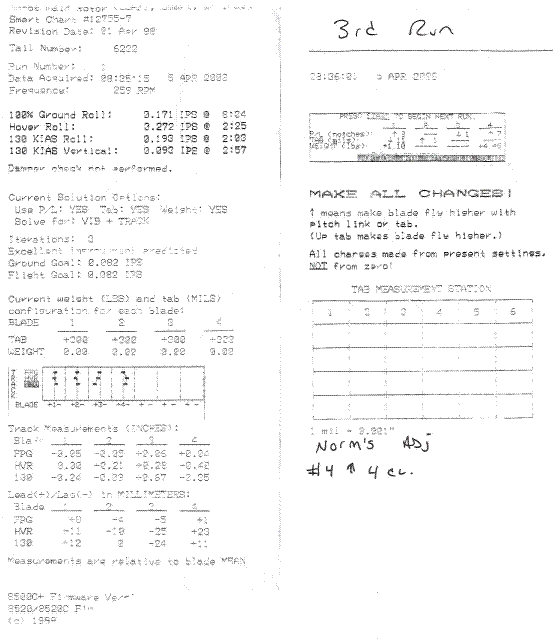 Solutions:
8500C solution: 3 Pitch Link; 2 Tab; and 2 Hub Weight adjustments.
IVT solution: 1 Pitch Link adjustment.
4th flight print-out (final):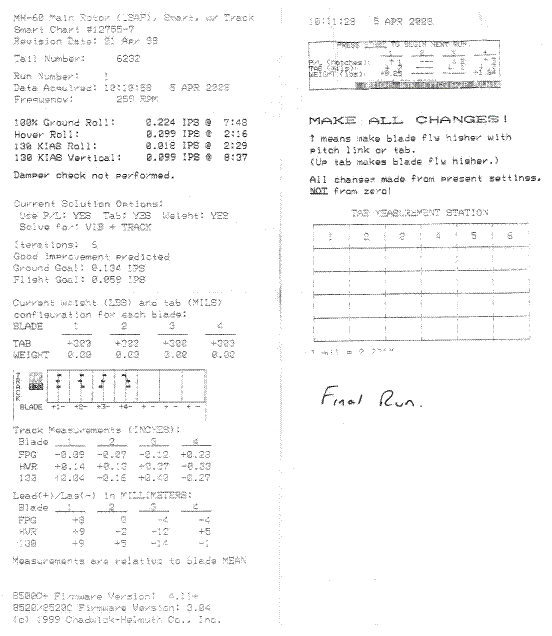 Less Rotor Adjustments with Better Results
As illustrated in the above print-outs, the Air Force's balancing equipment calculated on average 7 separate adjustments per balance session, while IVT's technology averaged 2 adjustments. Over 70% fewer adjustments were actually needed to smooth the main rotor system down to a 0.0 ips range in all flight regimes. Aircraft was released by lunch time.