The Air and Space community has long recognized vibration as a cause of structural and equipment failure. Our solution smooths the main rotor system and extends the structural life of the helicopter. A primary goal of all aircraft owners is to increase the longevity of their fleet. Breaking the paradigm of the unacceptable past practices is critical to successfully pursuing that goal. Helicopter main rotor tracking and balancing is accepted across the industry as a "complex and time intensive task". The associated high costs lead planners across the industry to ignore or put off the task until it can no longer be avoided. Balancing is far from just another basic maintenance task.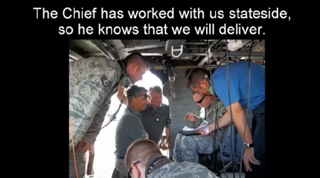 The current standards are written such that Helicopter maintainers are forced to invest vast amounts of time and money in smoothing the aircraft's main rotor system, often with marginal results. This vibration maintenance routine involves an extensive amount of man-hours and associated aircraft flight hours. Conducting maintenance in this fashion eats away at the life-cycle usefulness of the aircraft, burns high-cost fuel; and if not smoothed properly the airframe, avionics and other operating systems risk premature failure due to lingering vibrations from the rotor. All of this detracts from the operational availability of the aircraft. For these reasons, the most efficient method possible to conduct rotor track and balance should be utilized to reduce the cost of this necessary maintenance task and to reduce the overall operating cost of the aircraft. We have serviced military and civilian aircraft world wide.
While each maintenance organization may use a slightly different approach to main rotor track and balance, each method has essentially the same intent to smooth the aircraft. The primary issue at hand is identifying which method works most efficiently. This has been a major issue for decades across the aviation industry. The instruments for measuring and monitoring have grown more sophisticated yet the ability to correctly interpret the data for diagnosis and corrective action have been lacking.
Reference: Renzi, Michael J. AN ASSESSMENT OF MODERN METHODS FOR ROTOR TRACK AND BALANCE. Thesis. AIR FORCE INSTITUTE OF TECHNOLOGY, 2004. Print
In helicopter operations our services in dynamic balancing and mechanical fault finding diagnostics will make great improvements to the operation of your aircraft fleet in four ways:
Knowledge and experience

: Our services will give your most inexperienced maintenance personnel more than 30 years of combined vibration expertise, leading to safer and smoother balanced systems.

Aircraft Readiness

: Downtime leads into unwanted expense. Aircraft using our vibration analysis solutions are in the air more often, and sooner.

Increased Longevity of Aircraft

: When our solutions are applied to your aircraft, the life of your investment is directly affected.

Economic Effectiveness

: Our proprietary solutions have specific proven results of:

Reducing unnecessary parts replacement
Increasing fuel efficiency
Protecting expensive avionics from vibration damage
Eliminating wasted man-hours on unnecessary troubleshooting
Our software uses the data supplied by many different brands of balancing equipment to produce solutions optimized for each individual aircraft using the customer supplied data. The learning algorithms incorporated in the program optimize the solution each time it is used. This process produces rapid results that are both increasingly simple and dramatically effective.
Our goal is to provide you with the solutions that make for more efficient flight, while improving your overall SAFETY, increasing your aircraft Readiness and minimizing unnecessary expenditures. We've done it for others and we can do it for you.
AIRCRAFT SERVICED
Aerospatiale
ATR-42
ATR-72

Agusta
A-109
A-109K
A-109S

Agusta-Bell
AB-206B
AB-412

Beechcraft
BE-1900C
BE-1900D
Bonanza
King Air

Bell
AH-1J
AH-1S
AH-1W
BL-222A
BL-222B/U
BL-205
BL-205B
BL-206B
BL-206L
BL-206L4
BL-212
BL-214
BL-230
BL-407
BL-412
BL-430
BL-47
HH-1H
HH-1N
OH-58A
OH-58C
OH-58D
UH-1H
UH-1M
UH-1N

Boeing Vertol
CH-47
CH-47C
CH-47D

British
Aerospace
BAe ATP

De Havilland
Dash7
Twin Otter
Dash-8

Embraer
EMB-120

Eurocopter
AS-350
AS-350B
AS-350B1
AS-350D
AS-355
AS-365
BK-117
BO-105
EC-135

Hiller
FH-1100
UH-12

Hughes
OH-6A/500C

Lockheed
C-130
C-130
(NP2000 Prop)
P-3

McDonnell
Douglas
AH-64
MD-500D
MD-500E
MD-900

Robinson
R-22
R-44
Schweitzer
SW-269A
SW-300C

Sikorsky
CH-53E
CH-53D
H-60
H-60A
HH-60
MH-60
UH-60
S-76
S-76A
S-76A++
S-76B
S-76C
S-76C+
S-76C++